How do I explain to my children where they and their donation-connected siblings came from?
You want to communicate but feeling ambivalent about how to break the ice? (On the fence? Read some considerations in my post "Should I tell my embryo-donated children..?") These questions of IF and HOW to tell are just as relevant for donor as recipient families. I've listed some ideas from my own repertoire learned from other moms, as well as book recommendations and reviews. If after reading, you're still feeling anxious, that's okay. While it can feel awkward at first, it gets more natural with practice - like changing a diaper. You can always contact me for support and ideas if you're feeling stuck.
Conjure a simple bedtime story, and recite it from the time they're just staring up at you in your arms. Adjust it for their age, adding more detail as they get older. You can take my bedtime story and make it your own, if you'd like. And if you're as kooky as me, change it up a bit to sing to the tune of the Brady Bunch. It's kind of catchy, really (though I saved you from that version here!) This one is for my one year old, who doesn't need the technical stuff yet.
Once upon a time there was a happy lady who was busy with friends and family who loved her, but she was also very sad because she wanted a baby more than anything in the world. She tried and tried but couldn't make a baby. So, she went to her doctor and asked him to help. He said go and find a magic seed, and then I can help you. She asked all of her friends, and one friend said "I have magic seeds. I used one of those seeds to create my amazing daughter, and I'll give you the rest. They have a little bit of this wonderful woman, and a little bit of this wonderful man. Her doctor said "Wow, those are really special!" He put a magic seed into her belly, and it grew and grew and grew. Then finally it was ready, and she gave birth to a beautiful baby boy. She named him Sam, and loved him SO SO much. Sam turned her into a Mommy and they both lived happily ever after.
2. Children love picture books, especially ones that include pictures of themselves! Create a personalized picture book, including immediate and extended family, plus relevant contributors like gamete donors and the donating family, too. Your book will be unique, special to your family, based on your child's family origins. What's important is that he/she can see all of the people who love him/her and helped to create his family.
TIP: You can check almost all of these books out of the library! In doing this research, I learned about Inter-library loans, through two systems, Prospector and WorldCat. You can get books all the way from the other side of the world!! Ask your librarian.
3. Characters in books can provide a safe and effective vehicle to explain how embryo donation works, alternative ways children are conceived, and unique family structures. These book recommendations can generally adapt to recipients and donors, and where noted, to multiple family types. I've added my own reviews so that you can start with the ones that feel like a good fit.
The Pea That Was Me Volume 3: An Embryo Donation Story by Kimberly Kluger-Bell
In this light-hearted book with cute pictures and kid humor, very nice people donated an extra pea (embryo) that a doctor put into mommy's tummy to create "me." I find it an easy read and more importantly, entertaining and simplistic enough for a young child or toddler. Customized to different IVF stories, volume 3 is for children conceived through embryo donation. It's not perfectly customized to accommodate the extra nuance of solo parenting, but still an easy fun read. It has room to fill in your own details as well, and appropriate for both anonymous and known embryo donation.
We Are Family by Patricia Hegarty
Not about embryo donation, but an awesome book sharing different types of families, including some who look like each other, others who don't. What makes a family is being there for each other. Every page shows 10 different family types, all sticking together through thick and through thin. Even though every family is different, the love is all the same. My little guy LOVES this book. If time on a page is any reference to his appreciation, he loves this book 50 times more than any other book.
Mommy, Did I Grow in Your Tummy? by Elaine Gordon
This book explains five methods for having a baby: IVF, sperm or egg donation, surrogacy, and adoption, introduced with accurate vocabulary, and explained in a way that a child 3 – 8 yrs old can understand. The book is more education than story, but the cleverly inconclusive ending allows for parents to incorporate questions to their own child about where they (or their donated genetic siblings) came from, thereby sharing their own story.
One More Giraffe by Kim Noble
This sweet and very simple story touches on how a giraffe couple want a baby to love very much and need help from another giraffe and a doctor monkey to become parents. It's a relevant introduction to egg or embryo donation and the love that parents have for their donated children, but seems to be only available electronically or inter-library loan, so may not be worth the hunt.
Families, Families, Families! by Suzanne Lang
Brightly colored adorable animals demonstrate all kinds of nontraditional families in very simple language. It doesn't reference fertility or embryo donation, but it's a great book to introduce toddlers to the idea of different family types. I personally think it's adorable, and my son wasn't as into it…yet! I'll keep trying because I love the pictures and the easy to understand message!
The Extra Button by Jules Blundell
A gingerbread couple wanted more than anything to have their own family. They travel long distances on foot through dark forests and deep rivers on the hope that someone in this foreign mysterious land far away has an extra button that may be able to help them have a child. It's a longer read, so more appropriate for 3 – 6 yrs old. I personally found it a little too close to home, and wasn't really excited about reliving that dark forest and deep river with only hope guiding me forward.
What Makes a Baby by Cory Silverberg
A children's picture book about conception to delivery that explores the science of where babies come from, including IVF, donation, surrogacy and more. It's education vs. story, and geared to Pre-K to 8 years old, so maybe that's why my little guy didn't dig it. The story also doesn't gender people or body parts, which seems a little unnatural given it's a book about the science of baby making.
I haven't read the following books myself, so I've included other reviews and I'll update these reviews when I've had a chance to read them with my little guy…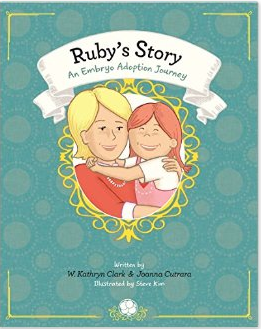 Ruby's story: An Embryo Adoption Journey by W. Kathryn Clark
A Single Mom by Choice recounts her journey to parenthood via donated embryo to her 5 year old. It's the only book I've seen so far that addresses a solo fertility effort. While I haven't read it, I love the idea and I did quickly flip through at a friend's house! There are a lot of words so would need to be adjusted for a child's age if they're very young. My friend's daughter who's 19 months wants to read it every day right now, so that's a good sign.
The Chicken Who Couldn't Lay Eggs by Taylor Brandon
This illustrated book explains the path of infertility to motherhood. A fun way to engage adults and children into the discussion of the origin of their lives.

Training Wheels by Chris Barrett and Sally B. Hunter
A five-year-old boy named Miles learns about his birth through an open embryo donation from a couple in California – intended for 4 – 8 yr olds. This is the only book I've seen that directly addresses the new family dynamics of genetic siblings. I'm excited to read this one!
More books to come as I expand my reading list! Please send me recommendations!